Moto Card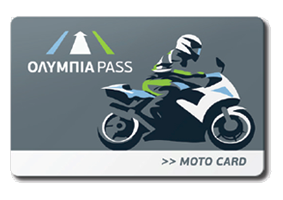 Motorcyclists, for safety reasons, use only the manned toll lanes and the Automatic Toll Payment Machines of Olympia Odos using the special Moto Card. Simple and fast, without any change being required!
You can choose out of two discount schemes, depending on the type and the frequency with you use the motorway:
The Moto VALUE scheme that offers a 20% flat discount from the very first passage.
The VALUE scalable discounts scheme, with discounts depending on the monthly passages you make, according to the following table:
Number of Monthly Passages
Διελεύσεων*

Discount % per passage

1-5

0%

6-10

15%

11-20

30%

21-30

40%

31-40

50%

41+

60%

The passages are calculated per transponder and within the same calendar month for each toll station separately.
You can get the Moto Card in the same way as the OLYMPIA PASS. 

Select the scheme that better matches your needs
Calculate the gain you will have with every scheme, by indicating to the following calculator the toll stations you use and the number of passages you make per month:
Toll Station(s)

Number of passages
(per month)

Toll

_

rate

Cost without discount

Cost under VALUE scheme
(scalable discounts)
Cost under ΜοtοVALUE
(20% from the 1st passage)
 

 

 

 

 

 

 

 

 

 

 

 

 
share: