Presentation of the project
Olympia Odos is the Elefsina – Korinthos – Patra motorway, a total of 201.5 km. It is the most difficult construction project currently in Greece, since it is the only motorway of which a large part (Korinthos – Patra) is being constructed while operating.
The Korinthos – Patra section of Olympia Odos is being constructed in a particularly unstable geological environment. The new motorway "embraces" the north coastline of the Peloponnese, making the project a "library" for retaining structures, since all known methods and their combinations are being used here. About 400 retaining structures are being constructed in this section of the motorway alone.
The 350 major structures (tunnels, bridges, overpasses and underpasses) are not only spectacular constructions but also contribute to safe and rapid transportation.
The motorway has a total of 29 interchanges connecting the rest of the road network and making traffic on the highway safe. This is the most dense network of junctions, since on average there is an interchange corresponding to every 7 kilometers of motorway.
On the very first day, the works of the concession project began in the existing sections of Elefsina - Korinthos and the Patra Bypass, significant construction interventions have been carried out simultaneously with the construction of the Korinthos – Patra motorway, and the refurbishment works are still ongoing.
Presentation of the project on the map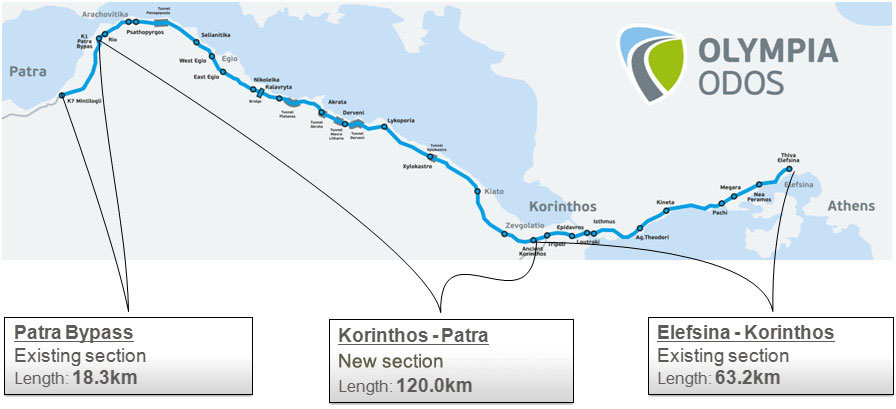 Major technical features

Section

Elefsina -
Korinthos

Korinthos -
Patras

Patras
Bypass

Total

Interchanges

11

13

5

29

Overpasses

13

22

3

38

Underpasses

37

140

27

204

Bridges

16

47

17

80

Tunnels

5

12

12

29

Total length of
tunnels (m)

4.473

16.011

5.117

25.601

Culverts

154

165

50

369

Motorists Service
Stations (MSS)

1

5

0

6

Section length
(km)

63,20

120,00

18,30

201,5
share: